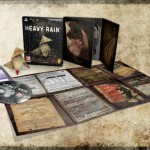 While the jury is still out regarding Heavy Rain's playability (is it just a CG version of the full motion video games of the mid-90s peppered with quicktime events?), its packaging for the Europe-only special edition evokes the fun meta connectivity of the PC adventure games of the late 80s and early 90s. Sure, some games' pack-in manuals have had a good meta quality to them (Grand Theft Auto's manuals are brochures highlighting that particular city's hot spots) and limited editions come with the occasional soundtrack or figure, but Heavy Rain's European edition really takes the cake (which may or may not be a lie). Perhaps a letter-dipping sequence a la the NES classic Startropics?
Per Kotaku:
It comes in a fancy gatefold cover, treated to make the textured raindrops appear "real", includes a promo code for the game's DLC, some cute (and bloody) little origami and a big fold-out covered in notes, which in the best case will be helpful solving the game's mysteries, worst case will look nice on the wall of a Heavy Rain fan.
The Sixth Axis also mentions that this edition will release in the UK, but exclusive to retailer HMV.
Were this to come out in America, I'd preorder it on the packaging alone, hoping that other companies would take notice and follow suit. Extras like this not only remind me of the classic adventure games, they also truly define "special" and "limited" editions. Let's hope that the gameplay, or at the very least the story, manages to live up to the packaging.
Heavy Rain releases in the US on February 23, in Europe on February 24, and in the UK and Japan on February 26.