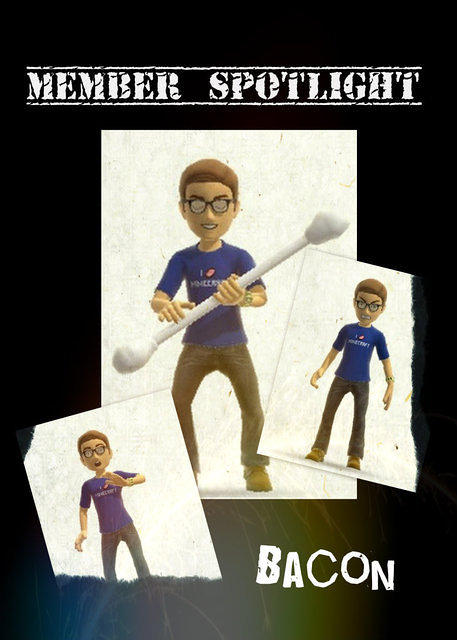 2. What game are you currently playing?
Minecraft, Minecraft, and more Minecraft. Seriously. I have it on Xbox, PC, and my phone, so I'm almost always playing. But I'm also playing through Fallout 3 again. I recently started playing Company of Heros, and I'm having a ton of fun with that.
3. What game are you looking forward to that has yet to release?
Borderlands 2 without a doubt. I'm also looking forward to FIFA 13 and Assassin's Creed 3.
4. If you could be anything in the world what would it be and why.
A slice of bacon. In all seriousness though, I would love to be a filmmaker. Or an editor. I'm studying to become a GIS analyst though, and that's pretty cool too.
5. What is your biggest gaming pet peeve when playing with others?
Griefing. I hate it when people grief. I also hate when someone has music blaring and their mic picks it up. Rude much.
6. When you aren't gaming, what are you doing?
Lately, I've been reading a lot, as well as recording vlogs and Let's Plays for my YouTube channel.
7. If you were to take over the world, what would be the first thing that you would do?
FREE BACON. For me only. My loving subjects must come to my palace if they wish to consume my bacon.
8. If someone were to turn you into a unicorn with a diamond encrusted bacon horn what would you do? Would you try to eat your new horn?
Of course I wouldn't. My horn would be the source of my powers, including my ability to fart rainbows and poop perfectly cooked bacon.
9. In 5 words or less, describe your gamer self.
Spastic and unusual.