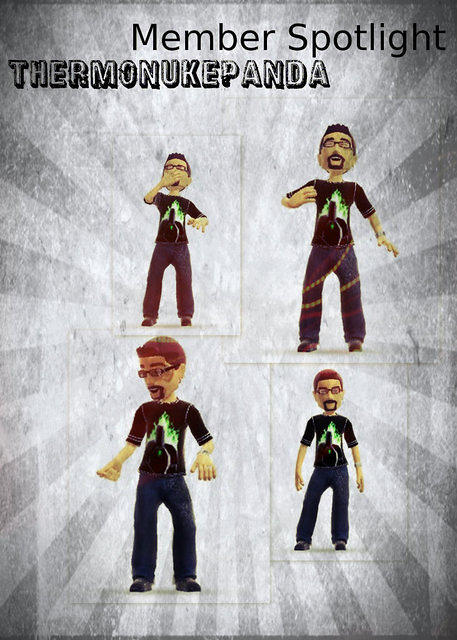 What game are you currently playing?
Currently I'm playing quite a few games including the recently released Borderlands 2, Madden 13 and Darksiders 2. When I'm on the PC I've been playing Mechwarrior Online and as well as the excellent World of Tanks.
What game are you looking forward to that has yet to release?
A new Mega Man. Screw you Capcom. I'm also looking forward to the new Castlevania games (including the new 3DS one). I'd also like to see a new Metroid on the Wii U eventually.
If you could be anything in the world what would it be and why.
I'd like to have money to be a philanthropist. It'd be cool to be independantly wealthy, not have to work and just spend all my monies on upgrading and building new stuff. Not only that but I'd probably be remembered a lot longer after I finally kick the bucket.
What is your biggest gaming pet peeve when playing with others?
Intentional friendly fire. God I hate that. Team killing, griefing, blocking me in a corner. Any of that stupid crap. To this day I still get into arguements on Live with this guy I've been gaming with for what seems like forever. We used to play Chromehounds and he would almost ALWAYS shoot out my legs or my tank treads in the beginning of the match to cripple me for no reason. Was funny at first but it gets old real fast.
When you aren't gaming, what are you doing?
When I'm not gaming lately I'm usually working long hours in the insurance business. In my free time I enjoy reading, painting, playing guitar, golfing whenever I can and spending time outside.
You are walking around town and you discover a panda bear sitting in a dark alley wearing sunglasses and sipping a nuka cola. After rubbing your eyes to make sure you aren't seeing things, the panda bear motions for you to come over. What do you do?
You do what the panda tells you to do. No questions. You do not want to piss off a panda bear, especially one wearing sunglasses.
If you could choose between winning a lifetime of free video games or winning the car of your dreams, which would you choose and why?
Depends on how long I have to live. If I know I'm going to die shortly I'm totally taking the car and doing some reckless stuff haha. Otherwise it's games all the way!
In 5 words or less, describe your gamer self
Panda power shouldn't be underestimated.